Construction materials
After you have purchased the Construction Plans and collected all the parts and materials it only takes a 3-day weekend to build a pair of LXmini and to hear in your place outstanding quality sound. If you can work with a jig saw, a drill, screw driver and crimping tool, then you are set to succeed. If not, then you might ask a friend to help you, or hire a high school kid. No soldering is involved, only glue and screw.
The materials cost for this project breaks down like this (in 2014):
LXmini Construction Plans: $105
4 SEAS drivers: $320
miniDSP 2x4 in a box: $115
2way Advanced plug-in: $10
USB power supply: $15
PVC/ABS pipes, couplers, cups: $60
Hardboard, Plywood, Feet: $25
Screws, spade lugs, cable clamps, terminal blocks, grip handle: $20
60 ft of18 Gauge speaker cable, plugs: $30
.... which adds up to $700. In addition you need four identical power amplifiers with 50 W to 100 W into 8 ohm capability and with high (>20) damping factor. More power is not necessary.
Alternatively two 50 W to 100 W into 8 ohm capable amplifiers with high (>20) damping factor could be used for the woofers only, where the chosen equalization of the low frequency response depends upon a high damping factor. Two smaller power amplifiers with 5 W to 10 W capability and <0.5 ohm output impedance could drive the midrange/tweeters without significantly affecting the frequency response and output volume capability. But the voltage gain of the low power amplifiers should be identical to that of the woofer amplifiers, which requires the addition of an input gain stage. This then opens the door to using "First Watt" style power amplifiers for the midrange/tweeter.
A miniDSP 2x4 HD ($205) and 2x4 HD1 plug-in ($10) instead of the miniDSP 2x4 unit and 2way Advanced plug-in provides preamplifier functionality by having remote volume control capability. It also adds digital signal input capability for streaming music directly from a computer or CD player.
| | |
| --- | --- |
| miniDSP 2x4 | miniDSP 2x4 HD |
Construction of the LXmini is brought into reach for everyone by a 24 page PDF with 3200 concise words of text and illustrated with 37 graphics and photos. Buying the plans is a low risk investment. You could gain years of musical enjoyment at the highest level of sound reproduction.
LXmini Construction Plans
Construction Parts

LINKWITZ.store offers a LXmini Speaker Kit, complete with modern high density wooden material parts. Meanwhile the design of this kit has been cosmetically improved and avoids visible screws & cabling and bulky end-caps. Precision mitered from dark anthracite HDF (without fraying corners of MDF) , US-size standard pipes, couplers, screws, wires, speakON connectors, rubber feet, damping material and four SEAS drivers for €499. Special edition black anodized woofers available. Shipping worldwide.

(pictures will be updated to the screwless / capless version, soon)
PowerBox 6pro NCore .... The "All in One" solution.
Explore the full potential, that has been designed into LXmini / LXmini+2 / LXstudio. Fully analog signal path with precisionASP and 6x Ncore power amplifier channels from Hypex.
User may change configuration to LXmini+2 or LXstudio. Switchable rumble filter for turntables.
See Burning Amp 2016 and Open House 2017
Construction Parts
Madisound offers a LXmini Speaker Kit containing the four SEAS drivers, a miniDSP 2x4 and damping material, a wood parts kit, as well as other useful hardware for $472.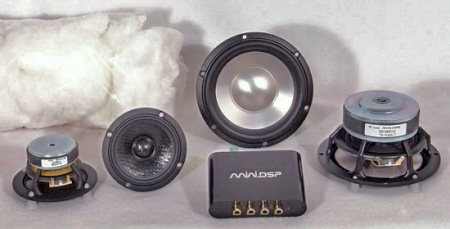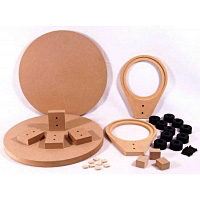 PVC/ABS Schedule 40 pipes of 4" and 3" diameter, end caps, rubber couplers, 2-conductor wires, terminal blocks, screws, a crimping tool, silicon adhesive, etc. can be found at your local hardware store. The pipes need to be cut to specified lengths and several holes drilled into them. No soldering is involved.
The ease of construction and the price put the LXmini within reach of many audiophiles and music lovers. Some universal CD/DVD players have built-in volume control, which makes a preamplifier unnecessary. The audio output from a smart phone or tablet is usually not sufficient to drive the LXmini to maximum volume, but provides in many situations enough sound.
A pair or more of LXmini is a "must-have" valuable reference and tool for professionals in the audio industry, like for speaker designers, amplifier designers, equipment reviewers, recording/mixing and sound production engineers, microphone designers, 3D sound algorithm designers, psycho-acoustic researchers and codec developers.
Upgrade from PLUTO to LXmini
The power amplifier section of the PLUTO electronic module is ideally suited to drive the LXmini. For such use the overall voltage gain is increased to 34 dB. Some circuit connections have to be removed and others added. Woofer and full-range amplifier input connections have to be provided. The PLUTO module could become a stand-alone power amplifier for the LXmini. Details have been posted on the LXmini owner support page.
I do not plan to provide guidance for modifying the mechanical design of PLUTO. Follow the LXmini instructions for that. The low end response, which is determined by the air volume and amount of stuffing in the pipe, may be different from the LXmini in your PLUTO implementation. Measure the response with a microphone 0.5" from the woofer cone and equalize it by following the approach in the LXmini configuration file for the miniDSP 2x4. Take it as a learning project and consult with the OPLUG.
Consider your options
My recommendation is: Share your current satisfaction with PLUTO by making someone else happy with it, or put it to different use. Then build the LXmini from scratch.
Alternatively, dismantle your PLUTO, reuse woofer drivers and modify the electronic modules, and rebuild everything else according to LXmini plans.
And foremost: Have fun!
Note: All material is copyrighted and for the personal, non-commercial use by the person who bought it from LINKWITZ LAB.
It may not be passed on in any form for use by others. | Terms & Conditions |
*****************************************************************************************************************************************