| Concept & design | Subwoofer-ASP | Supplies | PLUTO |
Woofer - Analog Signal Processor
A new circuit board has been designed to simplify the construction of a woofer to midrange crossover or the addition of a subwoofer to an existing loudspeaker such as PLUTO or ORION. Previously it took one MT1 and two WM1 printed circuit boards, now the same task is accomplished with two w-ASP circuit boards, one for each channel, and additional capability is provided.

The w-ASP topology allows for a wide range of applications, but is geared towards sealed boxes and dipole woofers. The circuit description below gives an indication of how the board can be used.

The pcb itself is of the same high grade construction as all the other pcb that I offer, with 2 layers of 1 ounce copper on 0.062" FR4, tinned pads and plated through holes, copper fill and silk screened legend on top, solder mask top and bottom. The dimensions are 6.75" x 6.0".
w-ASP circuit description
The input signal which comes from a preamplifier is buffered and then divides into a branch for the midrange and a branch for the woofer. In the midrange branch is a highpass filter section, a biquad and an allpass. The woofer branch has two lowpass stages, a gain control, a shelving lowpass, a biquad and two opposite polarity output buffers.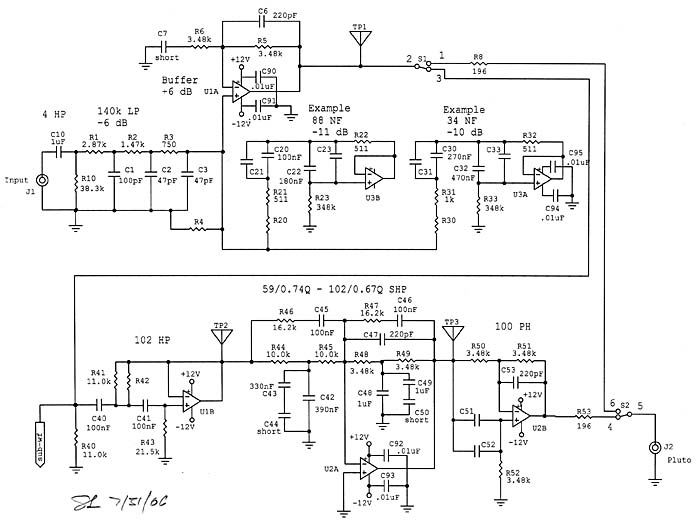 J1 - The input signal goes through a dc-blocking capacitor and RFI filter.
U1A - Buffer stage and also configurable as shelving highpass.
U1B - Highpass filter section
U2A - Biquad, popularly known as Linkwitz Transform in this particular topology. Used to shape the acoustic highpass behavior of the midrange so that together with U1B a LR4 acoustic highpass is formed.
U2B - Allpass filter for delay of the midrange.
S1-S2 - Toggle switch to apply the unfiltered input from J1 to the midrange and turn the woofer off, or to turn on midrange and woofer equalization.
U3A, U3B - Two notch filters for room or dipole equalization.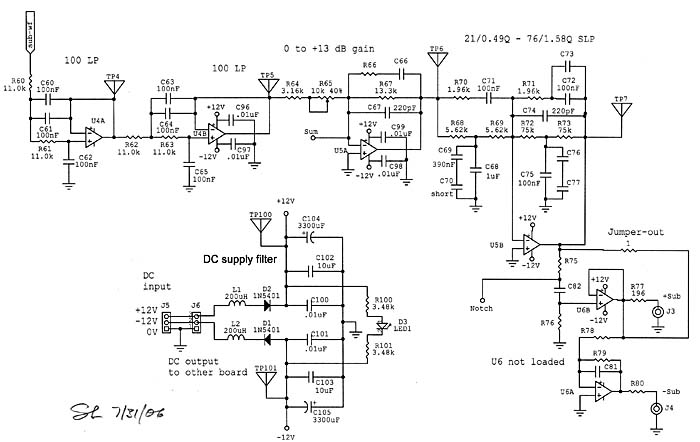 U4A, U4B - Two lowpass filter sections in the woofer channel for crossover to the midrange.
U5A - Adjustable gain for the woofer and inverting amplifier that can be configured as shelving lowpass for dipole 6 dB/oct equalization. The Sum junction allows to sum in the other channel if a single woofer is used.
U5B - Linkwitz Transform to extend the low frequency response of the woofer.
U6A, U6B - Output buffer stages of opposite polarity for driving two power amplifiers in bridge configuration. When U6 is not needed, then Jumper-out allows connection to J3. The notch filters of U3 can be wired to Notch junction for equalization.
DC supply filter - Post filtering of the external power supply and power on LED.
U7A, U7B - Not shown in the schematic but at the top of the pcb are two powered amplifier sections that can be wired as necessary. Multiple solder pads for each lead, ground and floating pads are provided. It is a convenient circuit board section for experimentation with opamps.
The component values shown are for the PLUTO+ subwoofer. The w-ASP is sold with material list and loading table. Where values are missing no component is loaded in this application of the pcb.


| Concept & design | Subwoofer-ASP | Supplies | PLUTO |