Supplies for LX521 construction and system assembly
What do you need?
Construction Plans
2 x Top baffle for midrange and tweeter
2 x V-frame for woofer
2 x Woofer bridge
2 x 6 Drivers (2 tweeters, 1 upper mid, 1 lower mid, 2 woofers)
2 x Passive crossover (4 mH inductor, 12 mF capacitor)
Wire connections to the baffle mounted drivers, crossover and terminal connectors
Analog Signal Processor and separate preamplifier with remote volume control, or:
Digital Signal Processor with built-in IR remote volume control capability
6 x 180 W ATI power amplifier, or 12 x 60 W ATI power amplifier, or equivalent
Speaker cables and shielded interconnect cables
Details for above items, what to build yourself or where to buy parts and assemblies, are given below.
I sell Construction Plans and blank printed circuit boards for the ASP. I can order and have ATI power amplifiers shipped to you from the factory at a special price. An order form is at the bottom of this page. Everything else can be supplied by others, if you own Construction Plans. For cables and interconnects see FAQ8.
The LX521 was designed for easy DIY construction and without sacrifice to acoustic performance. It is important not to change the baffle contours, the frequency response of the ASP, or the passive crossover. If you want to experiment or have ideas about improving my design, then I recommend that you first build and listen to the LX521 having followed the instructions in the Construction Plans. Support of the LX521 loudspeakers is provided via a web page to which owners of the LX521 Construction Plans have access. Additional construction and test information, revisions and updates are posted on that page. Check it out before you start building.
When building the speaker you will need to have some woodworking capability or find a cabinet maker. At minimum a circular saw and a saber saw are required, but not a router. For the crossover you must load and solder components onto a printed circuit board, and connect wires where indicated. The finished assembly must to be tested electrically to avoid using the costly drivers as fault indicators. A digital voltmeter, a 20 Hz to 20 kHz sinewave signal source and AA-cell batteries are sufficient for spot checks. Acoustic measurements are not necessary.
The 34 pages of the LX521 Construction Plans contain:
Drawings for all baffle parts
Mechanical assembly instructions
Driver and crossover wiring instructions
ASP crossover/equalizer circuit description and diagram
Material list for electrical components
Loading chart for printed circuit boards
Electrical assembly instructions
Electrical test instructions
System turn-on and test
URL of the LX521 Owner Support Page
The LX521 Construction Plans are the license to build the loudspeakers for personal use. They are also required when subassemblies are purchased from other suppliers.
Estimated cost of materials

Construction Plans .................................................... $150
4 Tweeters, 4 Midranges, 4 Woofers .................... $1600
Wiring, connectors, passive xo, speaker cables .. $200
Wood, screws, glue, paint ....................................... $200
ASP components, pcb's, case, power supply ...... $700
---------------------------------------------------- Subtotal $2850
6x180W Power amplifier ........................................ $1850
---------------------------------------------------------- Total $4700
Blank Printed Circuit Boards for the ASP
Printed circuit boards are essential for assembling the Analog Signal Processor electronics. The ASP divides the incoming left and right channel audio signals into woofer, midrange and tweeter channels for driving the power amplifiers of left and right loudspeakers.
The LX521 ASP is assembled on the most recent ORION ASP printed circuit board. It supports balanced and unbalanced inputs. Tweeter, midrange and two woofer output connectors are unbalanced. Outputs can be attenuated to match power amplifier voltage gains if they are not identical. Silk screened component outlines and numbers on the pcb simplify loading the board. The board material is FR4 with two layers of 1 oz copper, has plated through holes, top and bottom solder mask and top silk screen. It is 0.062" thick and measures 7.6" x 7". This industrial strength circuit board makes for easy soldering of components. A praxis session is strongly recommended in order to learn temperature and timing to get to wet and shiny looking solder joints. Cold solder joints, solder bridges or burnt pads and damaged components can turn into a nightmare when trouble-shooting a dysfunctional circuit. Two boards are required for the ASP.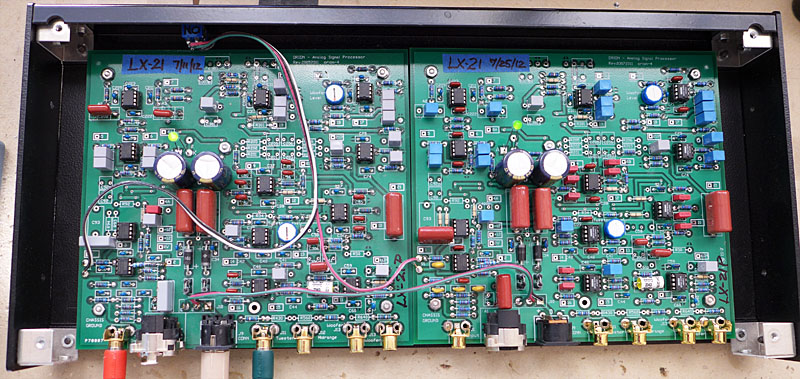 LX521 ASP proto
Assembled DSP and LX521 Configuration File
Instead of the ASP a Digital Signal Processor can be used to generate the appropriate woofer, midrange and tweeter drive signals for the power amplifiers, which are connected to the speakers.
A Configuration File is provided with the LX521 Construction Plans, which needs to be loaded via USB from a computer into the DSP unit. The miniDSP 4x10 Hd is ready made with both analog and digital inputs and has volume control. The unit can be trained to recognize Sony/Philips IR remote controls. It thus also replaces the preamplifier, which is required in front of the ASP above. But the DSP lacks an indication of volume level.
You need to purchase:
1 x miniDSP 4x10 Hd
1 x 4x10 plug-in firmware to structure the DSP for XO/EQ applications
Rear of miniDSP 4x10 Hd
See DSP challenge for alternatives
Power Amplifiers
The AT6012 is rated at 60 W per channel into 8 ohm FTC full bandwidth output power, with all 12 channels driven simultaneously. The power supply has high current reserve and a 2000 VA transformer. Two LX521 speakers utilize 8 amplifiers, which leaves 4 amplifiers for any future use or driving lower midrange and upper midrange separately. The actual power output of the individual amplifiers is more than sufficient for midranges and tweeters. A separate amplifier channel is allocated to each of the 10" woofer drivers to obtain output capability that is commensurate with the midrange, yet minimizes bottoming and the risk of mechanical damage to the woofers, or having to reduce the speaker's low frequency extension. At very high sound levels the amplifiers clip first, which gives a clearly audible warning to turn down the volume.
The AT1806 is a six-channel power amplifier rated at 180 W per channel. If the two 10" drivers in the woofer baffle are connected in parallel, then they present a low 2 ohm impedance to the power amplifier around 100 Hz. The power amplifier driving this load must be capable of at least 200 W into 4 ohm. The AT1806 is capable of producing higher bass output volume from the LX521 than the AT6012. The ASP crossover/equalizer requires no modification for its use. On typical program material the voltage swing to drive the lower-mid/upper-mid passive crossover is larger than for the woofers. Thus the AT1806 has more reserves than the AT6012 to handle extreme loudness peaks.
But, the higher power amplifier has the potential to bottom out and damage the woofers below 40 Hz and to overheat or stress midrange and tweeter with high level test or transient signals. I never had a failure with program material even at extreme volume levels.
The AT602 is a two-channel power amplifier rated at 60 W per channel. I use it to drive left and right tweeters. The AT1806 then powers four woofer drivers and the two lower and upper midrange combinations. The addition of the AT602 gives a more appropriate power distribution at extreme volume levels. Caution is advised. The AT602 measured 1.3 dB lower in voltage gain than the AT1806 and required a compensating increase of the tweeter level potentiometer setting in the ASP.
ATI making an amplifier -- ATI sales story
Madisound, the distributor of SEAS drivers in the US, offers a complete LX521 Driver Kit of woofer, midrange and tweeter drivers.
Madisound offers a NC-machined flat-pack of wooden parts for DIY assembly of the baffles.
Madisound offers an assembled and tested ASP crossover/equalizer. Contact Adam Johnson.
www.MagicLX521.com in Germany offers a complete CNC machined wood flat-pack and parts kit, including all drivers, for building the LX521. Different wood finishes are available. They also offer >50% assembled cabinets with drivers mounted and an assembled and tested ASP in a powder coated aluminum case. They ship world-wide.
Contact Frank Brenner after having studied the www.MagicLX521.com website for your needs.
If you already have the pcb's (orion-4 Rev 03072011), you may send them in and deduct 100€(noVAT) /119(incl VAT) from the price. If you ship your boards in from outside the European Union, they will send you a proper shipping label via e-mail.
In the UK contact Jerry Bloomfield at Falcon Acoustics Ltd for an LX521 Kit
Contact Dave Reite about availability to build a fully assembled and tested ASP crossover/equalizer.
Buyers of cabinet kits or assembled pcb's must own LX521 Construction Plans ($150). See below for ordering, shipment cost and payment.

LX521 Construction Plans and ASP printed circuit boards are shipped from LINKWITZ LAB via US Postal Service Priority Mail.
Power amplifiers are shipped directly from the ATI factory. Inquire about shipment cost to your address by sending me an email.
Payment options
You can pay with credit card over the Internet by using PayPal. In that case, please add a 3% payment fee (4% international) to the total cost of Kit and shipping. My address for PayPal is: sl@linkwitzlab.com .
Alternatively you can purchase and send me a Postal Money Order, International Money Order, Western Union or Thomas Cook Money Order, or a Bank (cashier's) Check drawn in $USA currency and made out to Siegfried Linkwitz. I will wait with shipment against a personal check from a US bank until my bank has cleared it. A direct transfer of money from your bank to my bank account is not feasible due to unpredictable additional fees.
Send your payment to:
LINKWITZ LAB
15 Prospect Lane
Corte Madera, CA 94925
USA
sl@linkwitzlab.com (for PayPal)
Send an e-mail message with the subject "LX521 order" to tell me the details of your order and to provide me with shipping information.
Copy the example below into an e-mail message to sl@linkwitzlab.com or slinkwitz@gmail.com and edit the underlined text .
(Drag your mouse over the text to highlight it, then COPY and PASTE into your e-mail message)
Shipping Label:

John-Alexander Smith
345 Kensington Street
Apartment #54
New York, NY 10019
USA

Ordered items:
(1) - LX521 Construction Plans ($150): 1
(2) - ORION ASP printed circuit board* ($75 each): 2
(3) - AT6012 power amplifier ($1950): 0
(4) - AT1806 power amplifier ($1850): 0
(5) - AT602 power amplifier ($450): 0
Subtotal $300.00
California residents add 9% Sales Tax to the Subtotal
Send Construction Plans as PDF to: alexander.smith@emailprovider.com
Shipment cost of Construction Plans & including up to 4 printed circuit boards: US $10, International: $25
Shipment cost of Power Amplifiers:
Send me your exact address to determine shipment cost. (Typically $90 US, $280 for Europe and 220VAC version)
Shipment total $10.00
Total order $310.00
PayPal fees (3% US, 4% international) $9.30
PayPal / Money Order in the amount of: $319.30 was sent on 17 June 2013 .
Note: All material is copyrighted and for the personal, non-commercial use by the person who bought it from LINKWITZ LAB. It may not be passed on in any form for use by others. | Terms & Conditions |
Comments: Anything you want to tell me
* DIY construction of the LX521 ASP should only be undertaken, if you have some expertise in electronic assembly, test, measurement and component selection. Even with the detailed material list you may still have to procure substitute electronic components due to changing inventory of vendors. I provide an updated Support Page with the Documentation but cannot help you individually. The ORION/PLUTO Users Group has been very helpful in solving problems and answering questions.
*******************************************************************************************************************************************************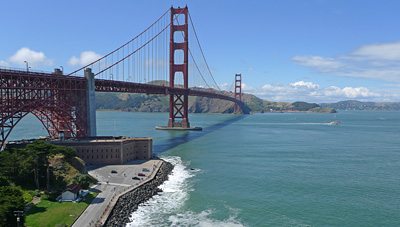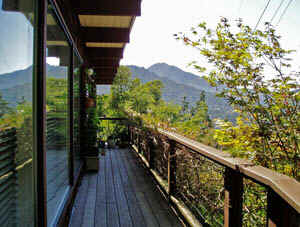 Send me an email to make an appointment for listening, talk or consultation about the LX521. The first hour is free. After that it costs you $150 for LX521 Construction Plans or ASP circuit boards. I live 8 miles north of San Francisco's Golden Gate Bridge in Corte Madera, California. Have fun!
I do not consult via email.
******************************************************************************************************************************************************