What's new?

20 October 2013
Assemblies - A listing of sources for full assemblies and subassemblies of LX521, ORION and PLUTO loudspeakers


16 October 2013
Links - International Conference on Spatial Audio


15 October 2013
Rocky Mountain Audio Fest - 2013, Oct. 11-13 ------- Handout
I gave 10 minute talks about *** Stereo is a Magic Trick *** in room 418
Friday: 2 pm, 5 pm and Saturday: 11 am, 2 pm, 5 pm and Sunday: 11 am, 2 pm
RMAF brought over 400 visitors to our room giving them an auditory experience and appreciation of stereo they never could have had before the advent of the LX521. I surprised myself several times about the speaker's bass output capabilities when hearing new material that visitors brought. We shocked more than one well known loudspeaker designer by the transparency, clarity and dynamics of close to live-like sounds produced by these speakers, and by the believability of an auditory scene devoid of loudspeakers. It was a most enjoyable magic trick, people got lost in the music and many listeners came back to our room for more. As one person wrote to me afterwards: "Your room at the show was 'Hotel California' - the room where people kept entering but never left."

The speakers were assembled from a Madisound flat-pack of wood parts. We used the Madisound assembled and tested ASP. The 12 drivers are all SEAS designs and Olav Arntzen, R&D manager at the time, was more than pleased to hear what his products allowed me to develop. John Stone, US representative of SEAS, played an important role by leaning on R&D for accomplishing certain driver modifications that were needed in open baffle applications.

We used a BelCanto (CD2) CD player with built-in preamp and volume control to drive the ASP. Connected to it were two Emotiva (XPA-5) 5-channel amps with 200W/channel output, driving bottom and top woofers separately, midranges and tweeters with 4 channels per side.
15 October 2013
Videos taken by Linear Integrated Systems at the Burning Amp Festival - 2013 (The audio is severely clipped in my talk)
stereophile reports a slow burn at 12 noon, but attendance was merely 10% down by the end of the day compared to last year.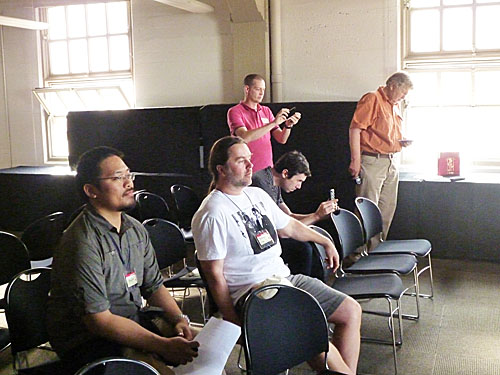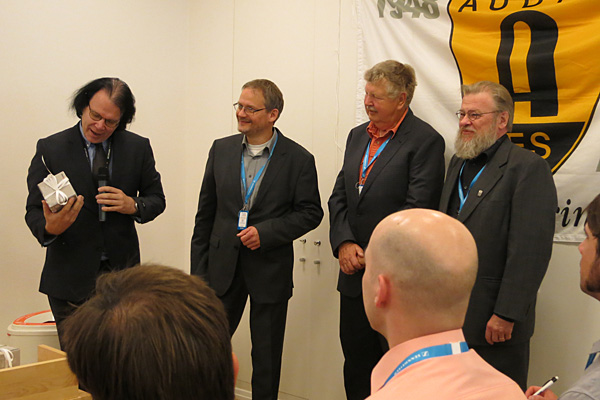 From left, Juha Backmann (Nokia) thanks the invited speakers:
Axel Grell (Sennheiser), Siegfried Linkwitz, and Ilpo Martikainen (Genelec)