What's new?
6 October
Rocky Mountain Audio Fest, Denver, CO, October 2-4

Time to pack up! - A big THANK YOU to Adam and Brian from Madisound, to John, Olav, Claus and Grete from SEAS for their help in making Room 514 such an attraction. Thank you to Don from TheOrionSpeakers.com for taking over the demo's to give me lunch breaks and to Brian L and Jeff B from the OPLUG for running a Q&A session about DIY construction of speakers. Thank you to my wife Eike who paid attention, support and loving help in many situations, accommodated our visitors and circulated about 600 Show Times Tickets. She also took pictures, more of which are on this page.




29 September 2015
Rocky Mountain Audio Fest, Denver, CO, October 2-4
Download the Show Times for LXmini & LX521.4 and a List of demo equipment with prices
used in Room 514 by LINKWITZ LAB with Madisound and SEAS.



28 September 2015
Rocky Mountain Audio Fest, Denver, CO, October 2-4
If this weekend's demo has you interested in building your own pair of LX521s or LXminis but want to know:
- how to integrate this into your existing system
- what is involved in building / what skills are needed
- how to get started
- where to get the components you need
- how to get answers when you run into problems
- what NOT to do...
Join us for an informal question-and-answer with several members of the oplug-support.org forum.
Learn from those who have "been there - done that". BrianL
Saturday, 5 pm to 6 pm, Room 514, LINKWITZ LAB



8 September 2015
NOTE - The mailbox at sl@linkwitzlab.com is 100% full. I am trying to resolve that problem.
But since all mail has been and is automatically forwarded to slinkwitz@gmail.com, no mail is being lost.



8 September 2015
www.magicLX521.com - LXmini prototype with 3D-printed woofer basket and top section


8 September 2015
Advertisement by www.magicLX521.com in: Das Musikmagazin für Ärzte, tonart 3 | 2015 , an insert of the Gerrman Ärzteblatt.





24 August 2015
Links - Nelson Pass talks about power amplifiers



21 July 2015
It is not too soon to think about attending an interesting audio event later this year

- October 2-4, Rocky Mountain Audio Fest, Denver, CO.
With support from Madisound and SEAS I plan to demo the LXmini and LX521.4 in Room 514
using two Emotiva XPA5 amps and a miniDSP 4x10 Hd.

- October 17th, Burning Amp 2015, Redwood City, CA, diyAudio
I plan to demo the LXmini and LXstudio with the PowerBox from magicLX521.com.
Dr. Frank Brenner is scheduled to pilot a Lufthansa A380 from Frankfurt to SFO the day before
and will be present on his layover day.

- November 10-12, Institute of Acoustics - REPRODUCED SOUND 2015, Moreton-In-Marsh, UK.
I plan to talk about "The Magic in 2-Channel Sound Reproduction - Why is it so rarely heard?"

- After that, November 23rd, my 80th Birthday, and Thanksgiving with family



8 July 2015
Links - 24/196 Music Downloads ... and why they make no sense



5 July 2015
Links - "The Audio Critic" and Peter Aczel's "Audio Legacy"


9 June 2015

| | |
| --- | --- |
| | I just spent several hours listening to the LXmini when driven by the first production sample of the PowerBox from magicLX521. Together with Dr. Frank Brenner, and an Academy Awards nominated audio producer, we three compared the Hypex DSP and UcD amplifier based PowerBox in my listening room to my typical LXmini setup with miniDSP 4x10 Hd and AT1806 amplifiers. I am just astounded how much more is in the LXmini system in terms of low end definition and overall refinement of sound when connected to the PowerBox. We all heard the remarkable ease, openness and neutrality. And I had thought all along that I had a pretty decent setup and that it would be difficult to get even more out of the LXmini! While I can still proudly demo and listen to my LXmini system even with the miniDSP 2x4 and Emotiva amps, it is difficult to forget this comparison session. |

8 June 2015
The Sea Ranch - Here are photos that will bring back memories to some of you from a time when we rented our two cottages,
1990 to 2011, and you could audition ORION in one and PLUTO in the other.


3 June 2015
LXmini - Wood Artistry builds LXmini


3 June 2015
Please note that I will be out of email reach from June 12 to July 1 and cannot respond to documentation requests


3 June 2015
Links - Floyd Toole lectures about Sound Reproduction


1 June 2015
LX521.4 - The LX521.4 Construction Documentation is now accessible to owners and buyers of LX521 documentation


29 May 2015
Other designs - Kii Audio THREE cardioid loudspeaker


21 May 2015
Links - Do you know your PSA? - Singing the Prostate Cancer Blues -


20 May 2015
Other designs - JBL M2 Master Reference Monitor


13 May 2015
LX521 - Examples of power amplifier IM distortion at 1 W and below


10 May 2015
Links - DIY power amplifiers with extremely low distortion


6 May 2015
LXstudio - The LXstudio Construction Plans are now available


28 April 2015
Links - Mono to Stereo Upmixing


24 February 2015
Links - WIZARDS OF SOUND - THE NEW YORKER writes about the Meyer Sound Constellation Acoustic System and the San Francisco Symphony SOUND BOX.


23 February 2015
Other designs - Commercial designs: Fullrange cardioid speaker by Dutch & Dutch


17 February 2015
Other designs - DIY Designs: Cardioid as sum of monopole and dipole speakers


13 February 2015
Links - The High Resolution Audibility Test


1 February 2015
Links - Ken C. Pohlmann, Principles of Digital Audio


1 February 2015
Links - J. Blauert, Communication Acoustics


15 January 2015
Links - Experts ask the Experts about Sound Recording and Sound Reproduction

To me one of the most significant events at the Rocky Mountain Audio Fest 2014 was the "Experts ask the Experts" exchange of viewpoints regarding sound recording and sound reproduction.

The discussion was honest and enlightening to both experts and audience. The explanations could help audiophiles to understand some of the limitations involved in recording and reproduction, and to appreciate the work done and to make educated choices.

8 January 2015
Stereo Recording & Rendering 101 - Definition of processes

Happy New Year 2015
to all LINKWITZ LAB speaker builders, past, present and future!
In 2015 I plan to extend the LX speaker family from the analog LX521 and the digital LXmini by adding three new members: LXstudio, LX521.3 and LX521.4. This will provide an upgrade path for LXmini builders to LX521 levels and be a revisit of the LX521 using DSP for equalization and crossovers.
For the LXstudio I add to the LXmini pair the two open-baffle woofers of the LX521 and use the miniDSP 4x10Hd for xo/eq. A prototype is already running and impresses me with its fast dynamics, 3D rendering and expected extension of bass. The 4-piece system provides greater flexibility in room placement than the LX521.
For the LX521.3 and LX521.4 systems I plan to start out from acoustic measurements again, expecting more options in driver equalization from a DSP unit than was practical with the ASP. The LX521.3 will be a 3-way active system including the existing passive crossover, while the LX521.4 will be a 4-way active system and require an additional pair of power amplifiers.
Those are my plans. Let's hear what materializes.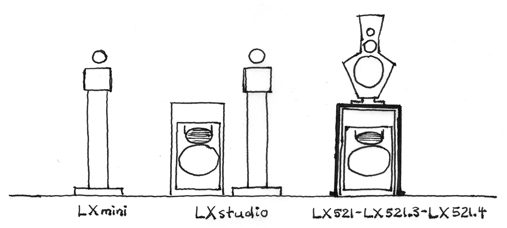 Spread the word to your friends:
Highly realistic 3D sound reproduction from stereo is also possible in their rooms and is within their reach!
Spread the fun!
I will be there with the amazing LX521 and the new LXmini Reference Loudspeakers and demonstrate them in Room 418 each day of the show.
LX521 at 9 am, 11 am, 1 pm, 3 pm, 5 pm
LXmini at 10 am, 12 am, 2 pm, 4 pm

It is time to make your travel arrangements to the Denver Tech Center, if you have not done so already.

The sound you hear in Room 418 should be your reference for the show.
15 August 2014
LXmini - Amplifier and Gallery pages added


8 August 2014
Sound recordings - West Side Story, San Francisco Symphony


26 July 2014
Links - The Distortion of Sound


14 July 2014
LXmini - Construction Plans released


9 July 2014
Links - SOUND AND RECORDING - Applications and Theory, written by Francis Rumsey and Tim McCormick


7 July 2014
Links - We need to talk about SPEAKERS ...


5 July 2014
Links - Floyd Toole is "Reflecting on Reflections" in the June 2014 issue of the JAES


3 July 2014
Links - Berliner Philharmoniker in the Digital Concert Hall - A great musical and visual treasure!


24 June 2014
LXmini - A new, small speaker with the promise of producing Reference Quality Sound in any size room


21 May 2014
Loudspeaker & Room - Test and measurement of loudspeaker and room interaction


21 May 2014
Sound recordings - Discover Internet Radio broadcasts


28 April 2014
LX521 - Sound as close to Live - as the Recording provides!
www.magicLX521 offers the fully assembled and finished LX521 at promotional prices during their Titanium Driver Award campaign.


8 April 2014
The Audio Critic - Peter Aczel reviews the LX521 Reference Loudspeaker


1 April 2014
Ping Tests - WATSON loudspeakers outdoors of SPC


28 March 2014
Links - Line array dipole for a Concert Hall sound system


26 March 2014
Links - Fundamentals of sampled signals, DAC's and the reconstruction into analog signals are illustrated in an Agilent Application Note


24 March 2014
Dipole prototypes - Public Address column loudspeaker


19 March 2014
Ping Tests - Experiments to understand what matters to the creation of a 3D auditory phantom scene from two loudspeakers and in different rooms




8 March 2014
diyAudio - "Extreme Open Baffle Active Speaker inspired by Linkwitz LX521"


23 February 2014
www.6moons.com - Review of Chinese-built Pluto Ultimate, which is now available from www.plutospeakers.co.uk in the UK




23 February 2014
www.hifiwigwam.com - Review of Chinese-built Pluto Ultimate, which is now available from www.plutospeakers.co.uk in the UK


2 February 2014
LX521 Photos & Comments - Ein Hör-Erlebnis in Stuttgart


16 January 2014
Links - "SAVE THE STEREO" and "Pure Audio to Health"


12 January 2014
About me - "The Titanium Driver Award" from ALMA International


8 January 2014
Loudspeakers - "Whatever happened to the quality of reproduced sound in the home?"




29 December 2013
My current setup - Audio/Video in our home on the Pacific Coast


6 December 2013
NUTSHELL HIGH FIDELITY - A most interesting website


3 December 2013
Pluto Ultimate - Reviewed by "Hifi Pig"


27 November 2013
LX521 - Listening room with rear wall reflections


20 November 2013
ALMA International - 2014 Winter Symposium - I will talk about: "Whatever happened to the quality of reproduced sound in the home?"


17 November 2013
PLUTO - Photos of Chinese market PLUTO System


23 October 2013
stereophile completed its report on RMAF-2013. The LX521 was not mentioned, though the reporter assigned to the floor was in our room, listened to his CDs, took notes and visibly enjoyed what he heard. I must assume that stereophile did not consider the LX521 to be of interest or educational value to their readership. Frequency independent directivity for minimum perceptual interaction with the room is found in hardly any commercial loudspeaker design, as can be seen in the photos from the show. Our demo gave immediately recognizable proof of its benefits. The LX521 sends a message to the loudspeaker industry, a message that would be inconvenient to stereophile's top advertisers.
If there were fewer visitors to RMAF, we would not have known. Our room was packed almost all the time and many music lovers returned for more, enjoying the clarity, timbre, dynamics and spatial rendering, and thus the believability of the auditory illusion.

ULTRA HIGH-END surprisingly includes the LX521 in its coverage of RMAF. The reviewer apparently failed to recognize the significance of the design in comparison to every other loudspeaker at the show. Our emptied out hotel bedroom had no acoustic treatment. But what is "ultra high-end" all about? In this category of audio the price of the equipment usually far exceeds any realistic gain in performance. Who is the audience? I want to satisfy individuals who are still familiar with live (unamplified) sounds in a performance space, or who play an instrument, or make recordings. It ought to and can be done in such a way, that many can afford the pleasure of hearing great recordings convincingly rendered in a normal living room.

Confessions of a Part-Time AUDIOPHILE gives an informative report. But the quoted prices are per pair, not per side, and so the total for a Madisound supplied LX521 Kit plus the prerequisite Linkwitz Lab Construction Plans comes to around $3200. Handout

20 October 2013
Assemblies - A listing of sources for full assemblies and subassemblies of LX521, ORION and PLUTO loudspeakers


16 October 2013
Links - International Conference on Spatial Audio


15 October 2013
Rocky Mountain Audio Fest - 2013, Oct. 11-13 ------- Handout
I gave 10 minute talks about *** Stereo is a Magic Trick *** in room 418
Friday: 2 pm, 5 pm and Saturday: 11 am, 2 pm, 5 pm and Sunday: 11 am, 2 pm
RMAF brought over 400 visitors to our room giving them an auditory experience and appreciation of stereo they never could have had before the advent of the LX521. I surprised myself several times about the speaker's bass output capabilities when hearing new material that visitors brought. We shocked more than one well known loudspeaker designer by the transparency, clarity and dynamics of close to live-like sounds produced by these speakers, and by the believability of an auditory scene devoid of loudspeakers. It was a most enjoyable magic trick, people got lost in the music and many listeners came back to our room for more. As one person wrote to me afterwards: "Your room at the show was 'Hotel California' - the room where people kept entering but never left."

The speakers were assembled from a Madisound flat-pack of wood parts. We used the Madisound assembled and tested ASP. The 12 drivers are all SEAS designs and Olav Arntzen, R&D manager at the time, was more than pleased to hear what his products allowed me to develop. John Stone, US representative of SEAS, played an important role by leaning on R&D for accomplishing certain driver modifications that were needed in open baffle applications.

We used a BelCanto (CD2) CD player with built-in preamp and volume control to drive the ASP. Connected to it were two Emotiva (XPA-5) 5-channel amps with 200W/channel output, driving bottom and top woofers separately, midranges and tweeters with 4 channels per side.
15 October 2013
Videos taken by Linear Integrated Systems at the Burning Amp Festival - 2013 (The audio is severely clipped in my talk)
stereophile reports a slow burn at 12 noon, but attendance was merely 10% down by the end of the day compared to last year.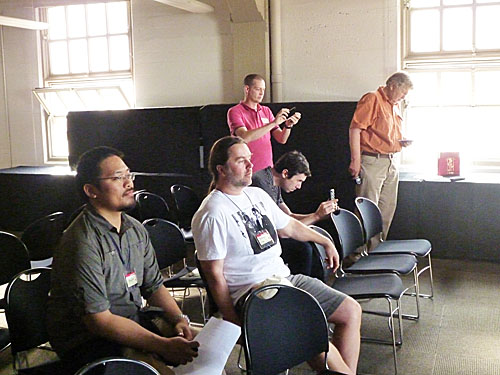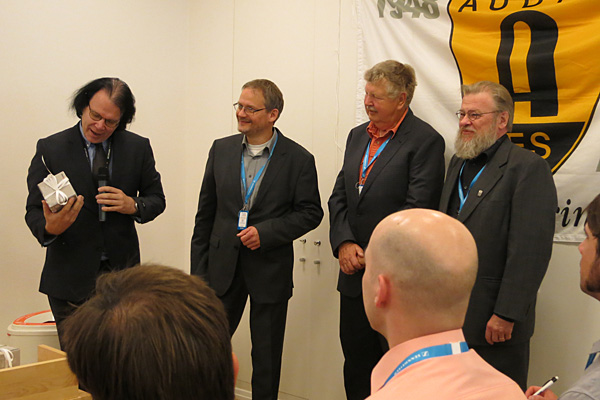 From left, Juha Backmann (Nokia) thanks the invited speakers:
Axel Grell (Sennheiser), Siegfried Linkwitz, and Ilpo Martikainen (Genelec)